Would these employee benefits help keep you at a company?
We all know that as the market is fast picking up, the passive employees are slowly becoming 'un-passive' and seeing what else is out there in the job market. Coupled to this, there is the tranche of recruiters and organisations now actively targeting passive job seekers (social media has REALLY helped this).
Companies (if they haven't done so already) should be actively looking at retention NOW! I saw a post on MindFlash.com and liked some of the things other companies have done in this area. Not huge things, but the little perks that we all like. Would they make you stay at an employer? Maybe not 100%, but they will certainly help!
Which one of these examples below is your favourite? Mine is between the MillerCoors PubClub, and the Quicksilver surfing time!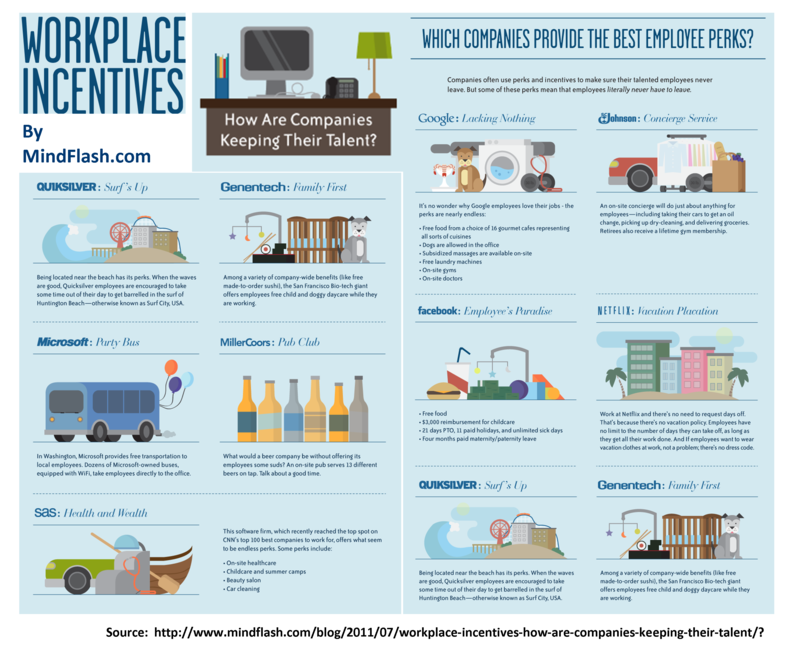 Image source
So now it is your turn – what have been the best perks/benefits you have had at an employer, past or present?

If you like reading this blog, then click on the orange RSS icon here and get the latest Sirona Says posts delivered to your RSS reader or your inbox the moment they come out.