Candidates are not active or passive, they are PACTIVE
How many times have you heard the phrase 'Active and Passive candidates? Every week? No more like every day in the recruiting world!
What the hell does it really mean anyway?
LinkedIn have made the bold statement that they believe that only 21% of the people on their network are 'active' candidates, with this definition: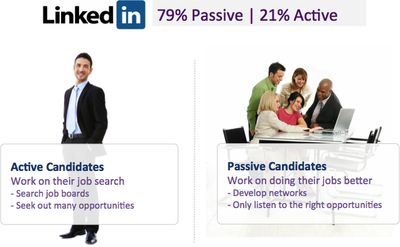 But the reality is surely that EVERYONE is active…….IF the right opportunity presented itself, aren't they?
Last week I watched a superb 100 mph presentation by Matt Jeffery , Head of EMEA Talent Acquistion & Global Talent Brand at Autodesk, at the Social Recruiting Conference, where he explained the phrase that we should really be adopting for candidates. Actually he 'borrowed' it from Lisa Scales, the CEO of Tribepad, and it is one that as recruiters we really knew about but never managed to put a word on it. Thanks Lisa!
Matt's / Lisa's descriptive word is 'Pactive' – a simple merging of the two words. Why didn't we think of that earlier?
As I said earlier, everyone (and that includes you and me) will ultimately have a 'price' – and by price I mean a job /salary / location /company that they would ultimately move job for. For many you just won't know what it is until it gets presented to you!
So forget all this active / passive nonsense and start learning to call people pactive from now on!

If you like reading this blog, then click on the orange RSS icon here and get the latest Sirona Says posts delivered to your RSS reader or your inbox the moment they come out.
We work with recruitment agencies and corporates to help them with recruitment strategy, social recruiting and recruitment process. If you require guidance, advice or social recruiting training, get in touch today.