There Is No Excuse For Recruiters Posting Jobs Like This Anymore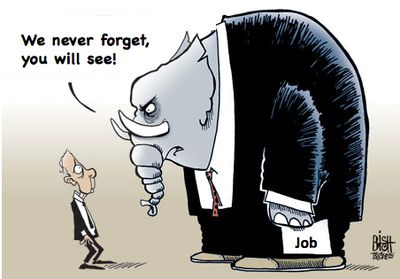 What is THE most important thing to recruiters - you know the one thing they just cannot do without? It shouldn't be a hard question to answer……….. candidates. So, why is it then there are still many recruiters (both internal and agency side) that do their best to try and alienate the lifeblood of their careers?
Let me share with you what got me started this morning. This footer was on the bottom of a job advert from a well known recruitment company:
"Please be aware we receive a high volume of applications for every role advertised & regularly receive applications from candidates who exceed the job credentials. We will only contact you within the next 14 days if you are selected for interview."
What an utter cop-out!
What they really mean is this:
"We are so arrogant and full of ourselves we can't be bothered to take the time to engage with the one thing that makes us all our money - you the candidate. We don't care about you and quite frankly you are lucky to even have a conversation with us. Yes we have the technology to communicate with you, but why should we bother? We don't need you - you need us, so suck it up and just apply to the next job instead. You might be lucky then (or then again maybe not!)"
At a time when everyone in the recruitment industry is talking about candidate experience - shouldn't this be consigned to the deleted folder?
Everyone involved in recruitment knows there is acute skill shortages in many sectors again. Candidates are back in the driving seat and in many cases have multiple offers on the table for interviews and jobs. So why would you distance yourself and alienate yourself (as a recruiter) from potential candidates for your roles? It just doesn't make sense - especially when you consider that you can use technology to eradicate this very easily.
Every company now uses recruitment systems, and even they don't (and are still using the recruiters favourite, the spreadsheet), they all use email systems like Outlook and GMAIL. ALL of these recruitment systems allow you to reply to applicants to jobs - yes, even Outlook. 
Whether you choose to set up an auto-response (via your recruitment system) to candidates (set up for either an immediate or delayed response) or whether you choose to do a bulk (bcc!) email response at the end of each day it doesn't matter. The fact is this should be the absolute minimum action you should do as a recruiter. 
I know that it is impossible to deal with 300 applicants you get for those popular roles, by calling all the applicants or emailing them personally. The candidates don't necessarily all expect that. But surely out of professional courtesy (you are a recruitment professional aren't you?), these people who have taken the time to apply to the job you posted for them to apply to, deserve at least a response from you? 
For every candidate you ignore, or don't get back to or treat with arrogance (as above), there will be maybe 5-10 other people that these candidates will speak to and tell them the experience they had with your company. Heck, they might even share it on their social networks! All for the sake of you being lazy with your process and technology.
So then think ahead to the next job you have - do a search for on your system. One of these candidates you ignored the first time could be right for the next role. They won't forget you ignored them the first time. But imagine if you had treated them properly? They would remember you then for the right reasons, and suddenly the conversation is so much more positive - and even if they aren't right they may well then be happy to share some referrals!
If you think I am being over dramatic - trust me I'm not. The BIGGEST complaint from candidates is exactly this - they send applications and CV's in for jobs and NEVER hear another word from the company or recruitment agency ever again.
The same applies for each stage of the recruitment process as well. Whether you interview these candidates, keep them on hold in the process as backup, reject them or the roles get put on hold, you must keep the communication consistent throughout the whole process - verbal and written.
And remember, candidates are like elephants - they never forget! The next time they are looking for a job, a friend wants a recommendation of who to apply to, or even when that candidate moves into a hiring role, they won't forget their own recruitment experience with your company. As the market gets even tighter over the next few years, this could make all the difference! 
I work with recruitment agencies and corporates to help them understand and leverage the different social media networks to improve their recruitment strategy, recruitment process, candidate attraction, employer branding and content marketing strategy. If you require guidance, advice or social recruiting training, get in touch today.

If you like reading this blog, then click on the orange RSS icon here and get the latest Sirona Says posts delivered to your RSS reader or your inbox the moment they come out.