Can You Use SocialDNA To Make Your Social Recruiting More Effective?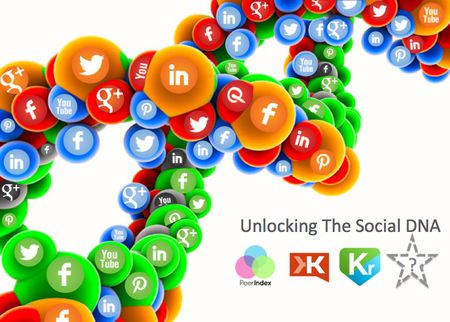 Is there anyone you know that doesn't have some form of a digital footprint? (I have actually only ever found one person I know that had no presence anywhere online!) Most people now have at least one online social profile - LinkedIn, Twitter, Facebook, MySpace, YouTube, G+, Pinterest, Instagram, Tumblr, etc  - maybe some you have even forgotten about! Remember that time you created a blog to write that one post and never wrote another? Google hasn't!!
Most people have got some kind of digital skeleton in their online closet, and even if it locked down for privacy purposes (let them believe that, it makes them happier!), your digital footprint has been left - this is the start of your SocialDNA.
But can these social profiles - your #SociaDNA - be used by companies to help them identify new potential talent for their companies? Can you use SocialDNA to make your social recruiting more effective? 
For the last couple of years, three companies have been trying to unravel this social DNA. They have been trying to understand how content, interactions, engagement and type of social network used can provide indicators as to peoples social influence, knowledge and ability. 
This would of course prove incredibly useful for companies looking to recruit people who have social media involvement within their jobs. For example, if you were hiring a marketing manager that requires good social media experience, you would expect them to have a strong SocialDNA. This would be picked up by one of the tools shown above (or should be) - Kred, Klout or PeerIndex - and indicated with a score. The level of score (all have different scoring systems) would then give you a guide as to their level of SocialDNA. A low score or no score at all, would indicate that they are not very active on social media, and maybe not right for your role.
If you haven't seen these before ( and there are still many of you I believe), these are what they look like:
Klout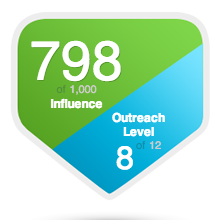 Any of you that use Twitter.com will have already seen this in action. Have you ever wondered what the red shape with a number in is on the Twitter website? Well this is actually your Klout score. It uses ' 400 signals from 8 social networks' to produce your social score out of 100. In my case it is currently 66 (the top image above).
This is great in theory, but there is however a big '?' here with regards to these three products. You see this thing called SocialDNA is incredibly complex.It utilises huge data sets - what is referred to as big data - complex calculations, semantic technologies and some very clever people to give you what is currently in place today.
For example, what determines if you are influential to people (in the social world)? Is it frequency of activity on the social networks, the type of content you share, the followers you have, the people that share your content (and their level of influence), the communities you are involved in, the types of networks you are part of, or any other of the myriad of data points there are in the social media world?
As I said it is complicated.
To date each of the three companies above have been openly ridiculed across the social web, for 'supposedly in-accurate' levels of influence across different subjects. The most famous was when Justin Bieber was hailed as the most influential person on social media!!  The fact is he might well have been to young teenage girls, but across the whole of social media? I don't think so! (And neither did all the people that took to channels like Twitter to voice the same opinion!) The problem with this is that it did little for the credibility of these tools! And here lies the one big problem……… credibility.
For these three tools (and others out there) there needs to be a consistency around the weighting of the results that we see. It isn't about just one social network, or frequency of updates or any one of a number of a criteria…….. it is about all of them ….. but in the right balance - the weighting.
I don't think we have seen this to date with their results. This is going to take time.
John Sumser came up with a perfect answer with regards to this: "It took scientists many years to unravel DNA (Deoxyribonucleic acid), but they got there in the end (and they are still learning about it!). The journey to unravel social DNA has only just begun, but be in no doubt that over the next few years, companies like Kred, Klout and Peerindex WILL get to understand people's social DNA and it's power in influence and decision making"
So let me go back to the point of the post. Can you use these (or other tools) to help you make a recruitment decision? In my opinion for some sectors, yes they can be very useful, but only as an indicator at this stage. If you are recruiting roles that need social media as part of them - sales, marketing, technology and recruitment - then maybe you should be keeping an eye on these platforms for the future. As an indicator they will give you a good idea if they are active on and have a presence on social media. So they would be useful. But I wouldn't be basing a hiring decision fully on how big their number is just yet!
Your social DNA is only going to grow and become more complex, so it is going to be really interesting to see how companies learn to de-construct it's different constituent parts for all our benefit! And the great thing about this sector is that it is improving every single week, with more and more brain cells, computing powers and (of course) money being used to help unravel our SocialDNA. Exciting times.
Parts of this post were originally included in a post I wrote for the HR Tech blog.
I work with recruitment agencies and corporates to help them understand and leverage the different social media networks to improve their recruitment strategy, recruitment process, candidate attraction, employer branding and content marketing strategy. If you require guidance, advice or social recruiting training, get in touch today.

If you like reading this blog, then click on the orange RSS icon here and get the latest Sirona Says posts delivered to your RSS reader or your inbox the moment they come out.